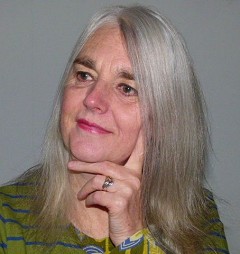 Bobby Britnell
Background
My first job in full time employment was working for Lord St John Roper, a theatrical costumiers, in the West End of London. We made elaborate costumes for both television and theatre, the latter included shows such as the Black and White Minstrel Show, Talk of the Town and many West End musicals. I later worked for Sir Bernard Weatherall, a high class tailors, where I learnt the skills of tailoring.
In 1972 I trained as a teacher and spent 12 years in a large comprehensive school, where I eventually became the teacher in charge of textiles throughout the school. Whilst teaching I studied and completed my City and Guilds in Embroidery Parts 1 and 2. In 1986 my husband and I moved to a rural part of South Shropshire and set up home and my studio. We have two sons, and an endless collection of different animals.
Inspirations
Although I work from a number of different themes and sources, what remains consistent is the need to draw. Some exhibitions often involve working with a theme or title to inform and inspire a new body of work. These themes can be innovative and challenging and at the same time provide opportunities to explore new concepts and ideas.
As well as constantly exploring new techniques which is important for teaching purposes, I do prefer to push and extend my own working methods when developing ideas. Further themes and inspirations may come from my immediate surroundings and interests.