SEEDS: Contained and Released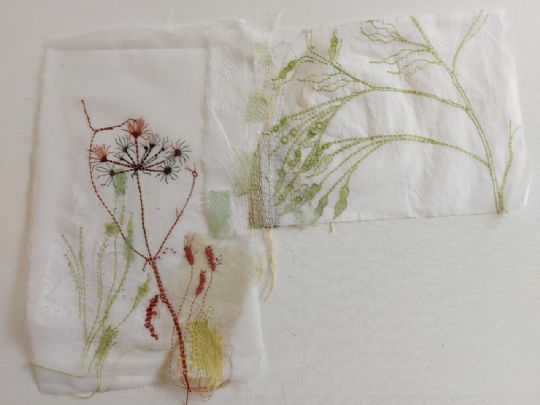 Dorothy Tucker ~ Cow Parsley with wild Raddish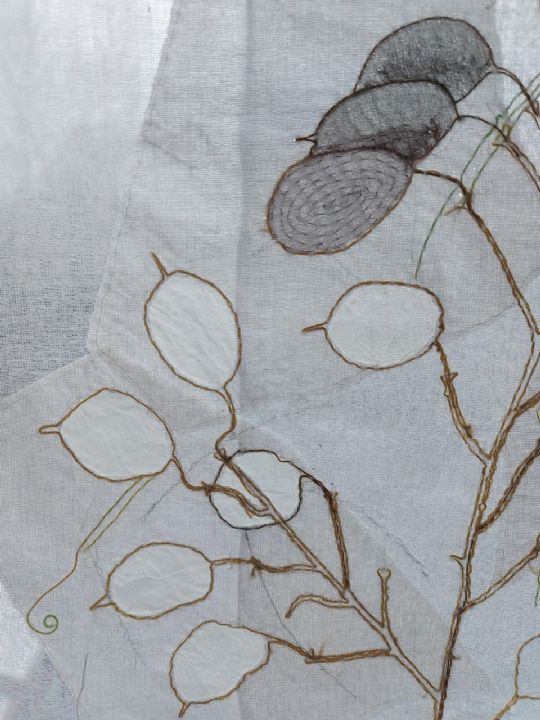 Dorothy Tucker ~ Honesty
Kantha with Dorothy Tucker ~ A Moor Hall Online workshop
This online workshop is an exciting collaboration between Dorothy as tutor, Bobby as technical support and you the students.
The course begins with an Introductory session on Monday 31st October from 3pm – 4pm followed by four further sessions on Thursdays 3, 10,17 and 24 November 2022 from 2.30pm - 4.30pm.
Students will also be invited back for another Zoom session in February 2023 to show how your work has progressed.
Course Description
Dorothy will show you some traditional and contemporary examples which will inspire you to stitch a kantha based on your own designs. Seed pods, dry flower heads, perhaps the journey of a seed as it is dispersed by the wind, seeds strewn on the ground or seeds found in fruit and vegetables could provide you interesting starting points and wonderful designs for kantha.
Kantha is a Bengali word for cloth and a particular way of stitching embroidered quilts from the good parts of old worn sari. On these quilts a wealth of kantha designs are eloquently drawn with running stitch. These designs are filled with pattern and colour, and then surrounded with the rippling quilted textures unique to kantha.
Dorothy Tucker
Dorothy Tucker works from her home in North Norfolk. She is a member of the Textile Study Group, exhibits her own work, and tutor's textile workshops in the UK and abroad. Born in India, Dorothy's choice to stitch by hand is informed by her research into Kantha, a form of embroidered Quilt traditionally made in what used to be Bengal. In January /February 2020 she travelled in search of kantha to West Bengal and Odisha on a group trip arranged by Discover India through Textiles.
Tutor:
DOROTHY TUCKER
Course length:
4 sessions
Dates:

| | | |
| --- | --- | --- |
| 1: | Thu | 3 Nov 2022 |
| 2: | Thu | 10 Nov 2022 |
| 3: | Thu | 17 Nov 2022 |
| 4: | Thu | 24 Nov 2022 |

Cost:
£150
Sorry, this course is full